Cylinder Head Porting
Southeast Performance utilizes all of the Hi Tech equipment that you would find in the cylinder head industry. Not only can we Hand Port Cylinder heads but we now offer full CNC Ported Steel and Aluminum Heads as well. We have a Fadal five simultaneous axis CNC machine. The Fadal machine is capable of porting heads to converting manifolds with a standard carb opening to a dominator flange. We also use the Serti 3.0 for superior quality valve seat cutting equipment.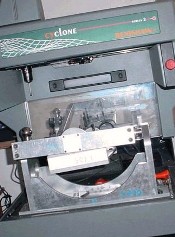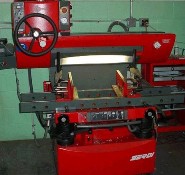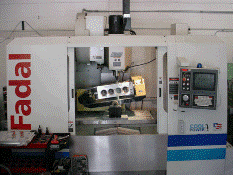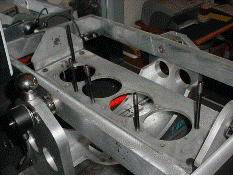 You have probably heard the expression, "More air and fuel in, more power out."
Well, that's exactly what a good pair of cylinder heads do. They allow the engine to breath more efficiently, which in turn makes more power. The power potential of any engine is limited by its cylinder heads. Sure, it's possible to push air and fuel into an engine with a blower or nitrous, but the amount of pushing you can do is still limited by the efficiency of the heads and intake system.
We have had a lot of experience with the various heads on the market and have learned which ones are best for particular applications. Let our knowledge keep you from making a mistake. "Bigger is not necessarily better" when cylinder heads are involved. Port shape and configuration are much more important than size. Too big a port on a relatively mild engine can actually make the car run slower than stock. And a larger port does not necessarily flow more air, shape is everything. As with everything else, it's the right combination of pieces that will make the most power, not necessarily just good pieces.
Our experiance in the racing industry allows us to offer a very complete and competitive head selection. So whether you need a pair of stock GT-40 cylinder heads, Dart Pro or an all out race ported set of Mopar 426 Hemi Heads. Southeast Performance can meet your needs.
The Skunk Works
Specializing in cylinder heads that require stock appearances. We modify the critical areas of the port for air flow and velocity improvement, then cover up the machined areas.
Listed below are just some of the more popular packages with many others available. Please contact us for your specific application and competitive pricing.